Steve Wood
Steve Wood is an Australian horticultural talkback radio and gardening TV presenter, with more than 40 years' experience in wholesale nursery production. He has a special interest in showing people how easy it is to grow food at home.
All the Dirt' Podcast: Gardening, Sustainability and Food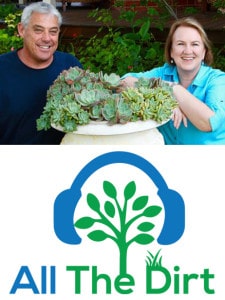 Deryn Thorpe and Steve Wood combine decades of gardening, sustainability and environmental knowledge to create Australia's most popular gardening podcast. The show has a gentle conversational style and aims to give people the confidence to grow their own food, create a beautiful and healthy environment and cook simple meals.  Most weeks Deryn and Steve are joined by a specialist guest who chats with them about their life, food, gardening and environmental passions.
You can listen to the podcast online at www.allthedirt.com.au or download the podcast from iTunes.