Special Event: An Afternoon with Jane Austen (Change of Program)
Most unfortunately we have just heard that Adrian Lukis is in hospital and will not be able to participate in this year's special event. However, we have a lovely program planned as a replacement which is outlined below.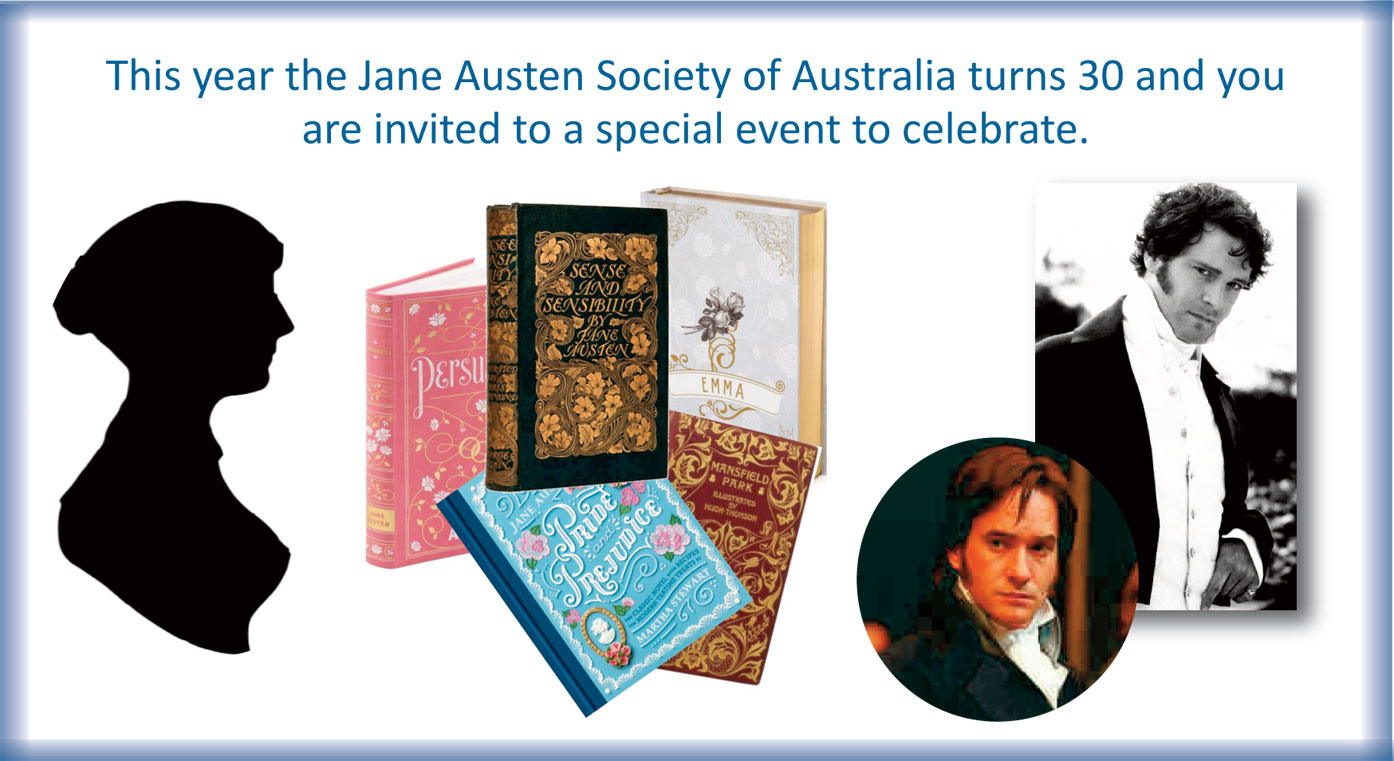 Join Australians Studying Abroad to celebrate the Jane Austen Society of Australia turning 30.
Susannah Fullerton will be giving a talk on 'Mr Darcy and the Men of Pride and Prejudice'. She recently gave the talk to much acclaim in Sydney. ASA traveller Maryanne Moore was there and has described it as a "stunning performance". This is what Susannah promises:
'Mr Darcy and the Men of Pride and Prejudice'
The moment in the BBC Pride and Prejudice when Darcy emerges from a lake in a wet white shirt has been voted the favourite TV moment of all time! And it is not even in the novel! However, the vote served to confirm the powerfully attractive? Is it because he rarely says a word? Is it his height, his estate, or something in his behaviour? And how does Jane Austen use other men in the novel for comparison – the foolish Mr Collins, sarcastic Mr Bennet, wicked Mr Wickham, and affable Mr Bingley. Join this exploration of masculinity in Pride and Prejudice and delight in one of the sexiest men to ever grace the pages of a book.
The talk will be broken into two parts, with an afternoon tea served in the middle.
---
DATE: Wednesday 6 November 2019
TIME:
1.00pm – 1.40pm Lecture – Part 1
1.40pm – 2.10pm Afternoon Tea
2.10pm – 2.50pm Lecture – Part 2
VENUE: Village Roadshow Theatrette, State Library of Victoria, 328 Swanston Street, Melbourne
TICKET PRICE: $65.00 per person
---
Bookings Essential
This celebratory afternoon includes two 40-minute lectures and light refreshments.
RESERVATIONS: please book on-line now
Or contact ASA on: (03) 9822 6899, Freecall 1800 645755 (outside Melbourne Metro) or email: info@asatours.com.au
Cancellation: Six days notice is required to qualify for a refund. Please contact us by email: info@asatours.com.au
Interested in this lecture or event?
Take the next step