Free Online Lecture: 'Palaces, Temples and Castles in Premodern Japan' by Dr Mark Erdmann
with Dr Christopher A. Tuttle
29 Aug 2023
Come join us!
no reservation required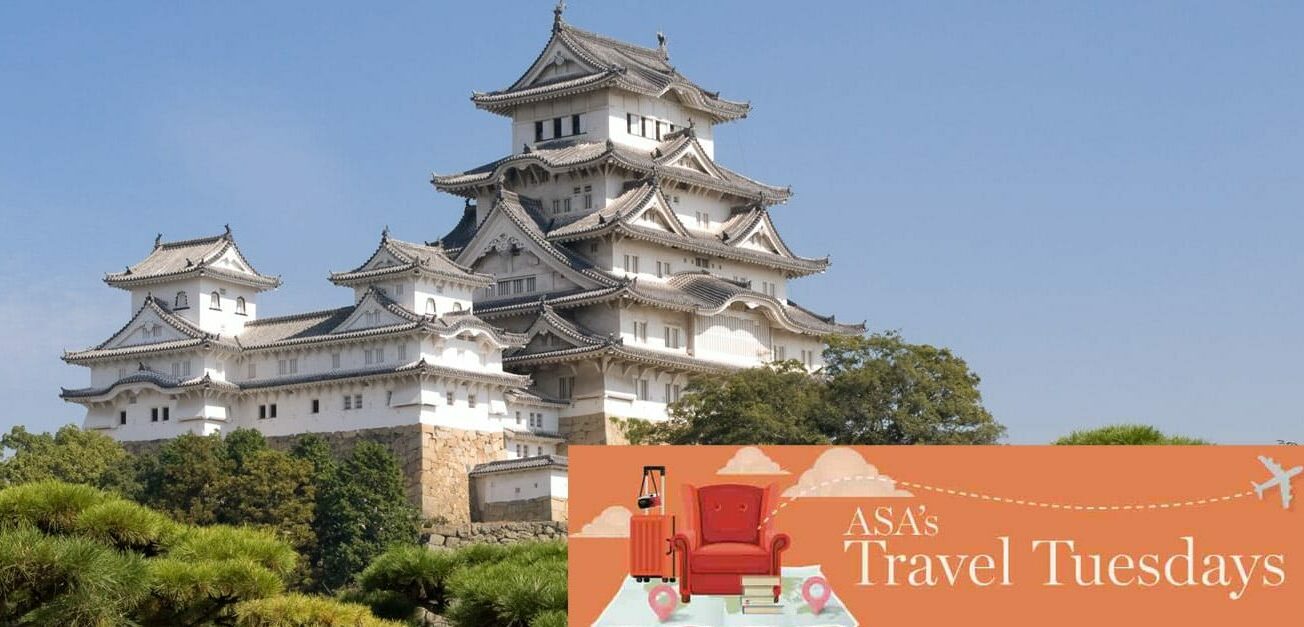 We are looking forward to introducing Dr Mark Erdmann. Mark is a Lecturer in Art History at the University of Melbourne. He received his doctorate in Japanese art and architectural history from Harvard University and has studied at University of London SOAS as well as the University of Tokyo, Gakushuin, Kindai University, and Osaka University. He lived for 15 years in Japan and is a specialist in Japanese pre-modern architecture. His research has focused on castles, master carpenters, as well as artistic exchange with Jesuit missionaries. Mark leads ASA's Art, Architecture and History of Japan 31 Oct – 15 Nov 2023 & 29 Oct – 13 Nov 2024
'Palaces, Temples and Castles in Premodern Japan' by Dr Mark Erdmann
Japanese architecture is known around the world for its simple, clean designs. Its premodern buildings entranced and inspired twentieth-century modernist architects, figures like Bruno Taut and Walter Gropius who saw in Japan's premodern structures echoes of their own interest in functionality and limited ornamentation. This talk will trace the unique set of geographic, political, and cultural factors that gave rise to the Japanese aesthetic. Tracing the origins and fusion of Japanese palace architecture with imported Zen temple architecture in the 14th century to the discovery of castles in the 16th century, key structure such as the Golden and Silver Pavilions, Himeji Castle, and the Taian teahouse as well as key styles like shinden-zukuri and shoin-zukuri will be introduced.
Date: Tuesday 29 August, 2023
Duration: 1 hour
Start Time: 05:00 PM Canberra, Melbourne, Sydney. Confirm your local time: Check your local time here
Join Zoom Meeting here:
https://us06web.zoom.us/j/83874368807?pwd=a0ZhSWJsSjFLRGN2QUR4VWVsdWNLQT09
Missed the last lecture? You can now watch it at your leisure via the ASA YouTube channel or ASA Newsroom.
---
ASA's Travel Tuesdays: Upcoming Zoom Lectures at 5.00PM AEST
26 September – 'Jordan: West Asia's Historical Junction' by Dr Christopher A. Tuttle
Modern Jordan encompasses territories that have served as crossroads throughout human history. From humanity's earliest exodus out of Africa through to the rise of modern nation states, Jordan's eternal landscapes have witnessed many, pivotal moments in our global history. Come take a stroll with us along a few of Jordan's paths and learn about some of the key historical locations and events that helped pave the way for the world in which live today.
24 October – 'Croatia: Archaeology and Culture between Rome and Constantinople' by Tony O'Connor
The Dalmatian coast of Croatia is an area which has attracted settlement of peoples from both west  and east. From the classical period onwards, it has been of great strategic and commercial importance  to the great historical powers including; Rome, Byzantium and Venice, whose influence have helped to create a stunning archaeological legacy  and cultural heritage. Join us for this brief journey through time to explore some of the historical highlights from this unique and spectacular region.
28 November –  'The Labyrinth and the Dancing Floor: Homer's Mythic Crete' by Dr Heather Sebo
On ASA's program entitled 'Between Sea and Sky: Homer's Greek Islands', we take an epic journey right across Greece, south to north, from Crete to Corfu—to the vibrant world of modern Greece, but also to the deep past of the poet we call Homer. We visit towns and cities that Homer names, places that he may have visited and others like Knossos and Mycenae and Pylos and Corinth, whose stories had been told in image and song for a thousand years. In this talk I will visit some of those places and tell some of those stories. Along the way, I will untangle what Homer has to say about the earliest Cretan myths–about Minos, Ariadne and the labyrinth, the craftsman Daedalus, ships that move by the power of thought and orchards that yield every kind of fruit, in and out of season, forever.