Dr Sophy Downes
Sophy Downes is a classical archaeologist, whose research interests have led her continuously further east, to Turkey and eventually Iran. She initially studied Classics at Oxford; she then did a MPhil at Cambridge, focusing on the funerary monuments of Western Anatolia in the Classical period. After living for a couple of years in Rome, she returned to the Institute of Archaeology in London, where she wrote her PhD thesis, a comparative study of the architecture and politics of Persepolis and the Athenian Akropolis.
She first visited Turkey in 2000 and Iran in 2002, and has returned numerous times to both, including to take up a residential postdoctoral fellowship at the British Institute of Persian studies in Tehran. She has published on both Classical and Near Eastern archaeology, and her book The Aesthetics of Empire in Athens and Persia is forthcoming. She was also a finalist for the Bradt Travel Awards for a piece about her experiences with fortune telling in Esfahan, which was subsequently published in Traveller's Tales. Her current research is on spatial analysis of Persepolis, notably the way in which the current reconstruction of the site obscures its original architectural logic. She has taught at University College London and at Edinburgh and is currently delighted to be a Lecturer in Art History at John Cabot University, Rome, Italy.
Publications
Selected Publications
Allen, L. 'The Greatest Enterprise: Arthur Upham Pope, Persepolis and Achaemenid antiquities', Arthur Upham Pope and a New Survey of Persian Art. Kadoi, Y. (ed.). Brill, (Studies in Persian Cultural History), 

31 Mar 2016.

 Allen, L. K, 'The Letter as Object: on the experience of Achaemenid letters', Bulletin of the Institute of Classical Studies.

56

,

2

,

p. 21-36, 

2 Dec 2013.

Lindsay Allen, 'Chilminar sive Persepolis': European Reception of a Persian Ruin', in Persian Responses: Political and Cultural Interaction with(in) the Achaemenid Empire pp. 313-342 [Chapter], 2007.
Lindsay Allen, Olivier Hekster, Richard Fowler; Imaginary Kings: Royal Images in the Ancient Near East, Greece and Rome Stuttgart: Franz Steiner Verlag, 2005.
Lindsay Allen, 'Le roi imaginaire: an audience with the Achaemenid king', in Imaginary Kings: Royal Images in the Ancient Near East, Greece and Rome pp. 39-62  [Chapter], 2005
Lindsay Allen, The Persian Empire: a history London: British Museum Press, 2005. 

ISBN-13:

978-0226014470; 

ISBN-10:

0226014479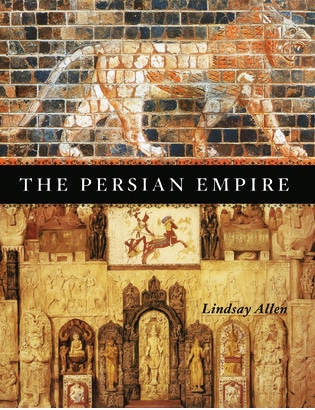 The Persian Empire by Lindsay Allen
"Beginning in the sixth century BCE, Persian kings ruled a vast, culturally diverse empire that stretched from northern Libya to central Asia. The regime and its rich multicultural traditions prospered for 250 years until its invasion, and eventual defeat, by Alexander the Great's army in 331 BCE. Yet until the British Museum's exhibition in the summer of 2005, the Persian perspective of this landmark event in world history will have been largely neglected. In one of the few accounts available, The Persian Empire provides a comprehensive and accessible portrayal of one of the world's first land-based dynastic kingdom.
In her cultural and political history of the development of this power, Lindsay Allen-whose posts in the Ancient Near East departments of the British Museum and the Metropolitan Museum of Art make her one of the leading authorities on Persia-surveys written sources, art objects, warfare, politics, archaeological sites, and daily life during Persian rule. She traces the evolution of the monarchy, showing how it fostered unprecedented international communication and cultural exchange, and describes how the Persian expedition into Greece in the early fifth century BCE became a defining moment that established a European identity apart from an Asian one. Throughout, lavish illustrations bring to life the traditions of this ancient Middle Eastern civilization and finally place Alexander's invasion within a Persian context. As the subject experiences renewed interest, The Persian Empire promises to be the definitive work on one of the most powerful dynasties in ancient history".