Travel Tuesdays: Explore the World Virtually – Episode 2
Belgium's contribution to international landscape and garden design is largely a well-kept secret, discover it now.
---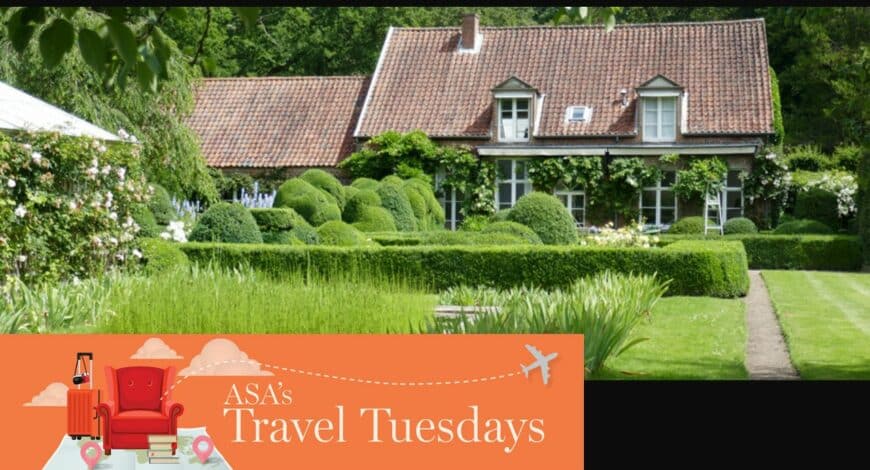 Tradition & Innovation in Belgian Landscape Design
Belgium to the uninitiated may well seem a somewhat enigmatic entity. Most people have heard of Belgian chocolate. Of course, Agatha Christie's much-loved fictional detective Hercule Poirot was Belgian, and the beloved cartoon character Tintin was created by a Belgian. Most of us know something about battles fought in Belgium: Waterloo, Ypres, and Passchendaele. But I wonder how many of us know that the term 'Art Nouveau' was first coined in Belgium and that the first Art Nouveau architecture is to be found in cities like Antwerp and Brussels? Similarly, Belgium's contribution to international landscape and garden design is largely a well-kept secret, yet the Belgian Jacques Wirtz is widely regarded as one of the very greatest landscape designers of the twentieth century. Melbourne landscape designer Sandra McMahon will explore his work, as well as that of numerous modern Belgian designers such as Erik Dhont, Marc Moris, Piet Blanckaert, and Chris Ghyselen who are making their mark on the international landscape design scene.
Recorded during a live-streamed Zoom presentation, this video has been carefully edited to deliver the experience of being part of an audience and having the best seat in the house.
Sandra McMahon graduated with a BA from the University of Melbourne, majoring in French and German language and literature. In 1998 she graduated from Burnley Horticultural College. Since then she has operated her own successful and rapidly expanding landscape design business out of Melbourne. Her work has been featured regularly in the print media and on television, and her gardens have been open to the public through various open garden schemes, and in the biennial Garden Designfest since its inception. Sandra lectures in landscape design and plant selection at the Burnley Horticultural Campus of the University of Melbourne, and is currently president of the Friends of Burnley Gardens. She also runs a landscape studio called 'Gardenscape Design' which was established in 1998.