Overview
Hobart, the Tasman Peninsula & Bruny Island: Architecture & Design – February 2022
Tour Highlights
Photo credits
Image 1 & 3: Trial Bay House by James Jones / HBV Architects. Photographer: Ray Joyce. The house was awarded the prestigious 2010 Robin Boyd Award of Australian Institute of Architects.
Image 2: Coopworth, Bruny Island by FMD Architects. Winner of the Residential Architecture – House (New) Award 2021.
With architecture and design writer Stephen Crafti explore the very best of south Tasmania's contemporary art and architecture.
Overnight Hobart (7 nights)
Itinerary
Itinerary
The following itinerary describes a range of private projects we plan to view, and a number of key designers we hope to meet. At the time of publication (May 2021) most visits had been confirmed, however a number of visits may only be confirmed closer to the tour's departure in 2022. The daily activities described in this itinerary may change or be rotated and/or modified in order to accommodate alterations in opening hours, flight schedules and confirmation of private visits. Participants will receive a final itinerary, together with their tour documents, prior to departure. The tour includes meals indicated in the detailed itinerary where: L=lunch and D=dinner.
Hobart – 7 nights
Day 1: Sunday 6 February, Arrive Hobart
Tour commences at 4pm in the foyer of the Moss Hotel
Short Welcome Meeting
Orientation Walking tour of Hobart's Waterfront incl. tour of the Henry Jones Art Hotel led by Robert Morris-Nunn AM
Introductory talk by Robert Morris-Nunn AM
Welcome Dinner at the Old Wharf Restaurant
Meeting Point: The tour commences at 4.00pm in the foyer of the Moss Hotel at 39 Salamanca Place. (check-in time is 3.00pm). This heritage hotel is located in the heart of Battery Point, a short 2-minute walk from Salamanca Place.
We commence with a short welcome meeting followed by an orientation walk of Hobart's waterfront including a tour of the interior of the Henry Jones Art Hotel, led by Robert Morris-Nunn AM. Robert, an adjunct professor at the University of Tasmania's School of Architecture, is principal of one of Tasmania's most awarded practices, Circa Morris-Nunn Chua Architects. In 2017 he was made a Member of the Order of Australia for his significant service to commercial architecture in Tasmania, to tertiary education and to professional institutes, and as a role model. His body of work which "engages with its users, weaving the natural environment with the stories of Tasmania's cultural history" includes the luxury Saffire Resort, the updated Henry Jones Art Hotel in one of Hobart's oldest waterfront warehouses, and the Islington Hotel in one of Tasmania's finest Regency mansions.
This evening we enjoy an introductory talk by Robert Morris-Nunn followed by a Welcome Dinner at the Old Wharf Restaurant. (Overnight Hobart) D
Day 2: Monday 7 February, Hobart
Hobart is home to a swathe of heritage-protected Georgian and Victorian buildings. Its most significant colonial buildings include Parliament House and the Penitentiary Chapel – both designed by John Lee Archer, a civil engineer and colonial architect who worked in Tasmania from 1827 to 1838. The Penitentiary Chapel, whose tower was inspired by the famous English architect, Sir Christopher Wren, remains one of the finest examples of colonial Georgian architecture in Australia.
Today Robert Morris-Nunn AM will accompany us to view a number of projects which involve the recycling of Hobart's historic buildings. We begin with a visit to a stately two-storey Georgian homestead which was built in Acton in the mid 1820s. Here Robert will explain how materials, including hardwood timbers, sandstone and field stones, from a former heritage-listed (but condemned) outbuilding were carefully 'recycled' to create opposing wings to the rear of the house which included an open family dining/kitchen area on one side of a central courtyard, and two children's bedrooms on the other. We also meet with Miriam Shevland and Carl Turk, directors of the architecture and urban design studio, Playstreet, which won three Landscape Architecture Awards in 2021 including an award for their work at Acton House.
Returning to Hobart we take a short morning coffee/tea break. Next, we meet with fashion designer, Leonie Struthers, the creative force behind sustainable fashion brand, lj struthers, whose clothing has been handmade in Hobart since the label's inception in 2005. Her store 'The Maker' is currently located in the Salamanca Arts Centre, however we plan to meet her at her new store which is due to open in Elizabeth Street later in 2021.
Nearby is The Barn which is a clever renovation of an 1820s sandstone barn by architects Alex Nielsen and Liz Walsh who collaborated on the project as workbylizandalex. Their careful renovation of this historic barn which retains much of the original stone and timber work, won the Heritage Award and Small Project Architecture: Nicholas Murcutt Award (AIA National Awards, 2015). Both talented young designers, they have each gone on to work at respected architectural firms in Hobart – Liz is at Cumulus Studio, Alex at Circa Morris Nunn Chua Architects.
Following some time at leisure for lunch, we take a short walk through the picturesque Battery Point which takes its name from the battery of guns which were established on the point in 1818 as part of Hobart's coastal defences. Having been settled in the early 1800's, it is full of historic character with its winding streets and colonial architecture.
Of particular interest is Arthurs Circle, a ring of old cottages circling a village green which is modelled on the quaint hamlets dotting the English countryside. This was one of the earliest sub-divisions in Australia. During our walk we visit two projects which involve sympathetic renovations to heritage buildings. The first project by Circa Morris-Nunn Chua Architects entitled, 'Arthur Circus', is part of this relatively intact and uniform Georgian subdivision. Here we view the successful extension to the rear of a heritage cottage which despite the challenges of increasing floor area on an incredibly restricted site, provides an internal space with both volume and daylight.
Nearby at the Signalman's Quarters, an 1850s stone cottage which formerly housed the signalman of Mulgrave Battery, we view sympathetic renovation works by 1+2 Architecture which include a new extension and conservation works to the significant heritage fabric of the house.
We end the day with a visit to Despard Gallery where Director Steven Joyce will give us a talk on the architectural history of the building and an introduction to the exhibition which features the Lockhart river painters including Samantha Hobson, Fiona Omeenyo and Rosella Namok. (Overnight Hobart) 
Day 3: Tuesday 8 February, Hobart – Fort Nelson – Sandy Bay – Taroona – Lenah Valley – Hobart
Note: Access to Dorney House Fort Nelson involves a 20-30 minute walk up a steep hill to the house. No access is available by coach.
J.H. Esmond Dorney, who died in 1991 aged 85, is regarded as one of the most important modernist architects of Tasmania's post-war period. A contemporary of Robin Boyd, in 2008 he was awarded the President's Prize posthumously by the Tasmanian chapter of the Australian Institute of Architects. We spend the day visiting a number of Esmond Dorney's projects. We will be accompanied by his son, Paddy Dorney, who is a former lecturer in architecture at the University of Tasmania. Paddy is also an architect and is writing a book about his father's life.
Our program includes a visit to Dorney's famous Fort Nelson house. This 1978 modernist gem, located atop an abandoned 1900s fort on Porter Hill, was one of three family homes constructed by Esmond Dorney. Dorney House featured in the first episode of the ABC's TV show Designing a Legacy hosted by Tim Ross.
We also visit the celebrated Young House, popularly known as the Butterfly House, at Sandy Bay as well as Tate House and Saint Pius X Catholic Church both located in Taroona.
In the late afternoon we take a walk through the Royal Tasmanian Botanic Gardens to view the award-winning Wombat One Pavilion, conceived, designed and financed by a group of Environmental Design students, under the tutelage of seminal Australian architect Richard Le Plastrier in 1979-80. In 1982 it won the prestigious Triennial Award from the Australian Institute of Architects. In May 2020 the ABC premiered a documentary on Richard LePlastrier entitled Richard Leplastrier –  Framing the View. Filmed over the course of 15 years this two hour documentary explores his life, his influences and his built work including Blackheath house in the Blue Mountains. During our visit we meet with architect, David Travalia – one of those environmental design students who helped design and build Wombat One.
We end the day with a talk by Paddy entitled 'Esmond Dorney and his influences' which will be held at the Tasman Chapter – Australian Institute of Architects. (Overnight Hobart) L
Day 4: Wednesday 9 February, The Tasman Peninsula
Light lunch at the Bangor Vineyard Shed, Forestier Peninsula
We spend the day visiting residential projects located on the rugged Tasman Peninsula which features spectacular coastlines, world heritage-listed convict sites and a national park home to a diverse range of indigenous flora and fauna.
Our first visit is to The Glass House at Koonya which has been included in the shortlist for the 2021 Tasmanian Architecture Awards. Designed by Thomas Bailey, director of Room 11, and Kate Phillips, this glass pavilion "reads as two parallel lines set against the gently undulating landscape." "While the minimalist art of Donald Judd and modernist architectural masterpieces such as Mies van der Rohe's Farnsworth House and Philip Johnson's Glass House offer Koonya Pavilion's clearest precedents, Thomas's personal connection to the area was an equally significant point of reference". Source: thelocalproject.com.au. During our visit we meet with Kate and Thomas who will discuss this project, as well as three other architectural interventions by Room 11 located on the same site including the main house (due to be completed this September) and the The Pulmonum – their meditation 'folly'.
Premaydena House by Misho+Associates sits on a largely wooded site facing north on an inward curve of the peninsula, to Norfolk Bay. The house design was inspired by lightness, simple modular proportions, screening and layering. To address the issue of cold, salty wind, Misho Vasiljevich described the house as being  'a box inside a box'. In 2014 Premaydena House received a commendation in the Tasmanian Architecture Awards small project category.
A light lunch will be served at the award-winning Bangor Vineyard Shed located on the Forestier Peninsula overlooking Blackman's Bay.
This afternoon we return to Hobart via Cilwen House, a sublime Georgian masterpiece dating from 1835 which stands on the foothills of Mt Romney. This magnificent early colonial home features a beautifully crafted blackwood staircase, timber floors, baltic pine ceilings, crafted open fireplaces, cedar shutters and a superb ballroom (now used as the master suite). The home is set within architecturally landscaped gardens which features a 100 year old mulberry tree. (Overnight Hobart) L
Day 5: Thursday 10 February, Kettering & Bruny Island
This morning we depart Hobart and travel south to Trial Bay House which overlooks the D'Entrecasteaux Channel and Bruny Island. James Jones, a former director of Hobart firm HBV Architects has carried out a complete reorganisation of an existing dwelling that was built in 1981 and designed by Ray Heffernan. The house, which was awarded the prestigious 2010 Robin Boyd Award of Australian Institute of Architects, was featured in issue 76 of the Houses magazine.
A short 30-minute ferry ride from Kettering takes us across to Roberts Point, Bruny Island where we begin our tour with a visit to the Apollo Bay House. Designed by Dock 4 Architects, the house was featured in Habitus House of the Year: "Apollo Bay House has water frontage and enjoys sensational views across the bay and beyond to Hobart and Mount Wellington. The client wanted something completely different from his family's customary lifestyle and something closely connected with its coastal environment. The new 125-metre-squared house consists of the old shack expanded with spaces alongside, in front of and on top – all wrapped in an angled lightweight steel frame that hints at a tent structure, thus signalling that this is a house that is not imposed on its site, but an integral part of it."
After lunch at Bruny Island Premium Wines where the food revolves around a farm-to-fork ethos, we visit two projects that have been shortlisted for the 2021 House Awards. The first project, Coopworth, designed by FMD Architects, is described as "a contemporary interpretation of a country farmhouse. Through playful forms and an inventive approach to materials, Coopworth tactfully converses with the ever-changing landscape of Coopworth sheep, wide-ranging views, and weathering red lead shacks dotted over the island."
The second project, Killora Bay, which overlooks the D'Entrecasteaux Channel, is nestled within a delicate environmental setting. This seasonal holiday home was designed by Lara Maeseele in association with Tanner Architects. "Through dense forest and undergrowth, the house emerges through fragmentary glimpses, as a monumental and elemental built form." (Overnight Hobart) L
Day 6: Friday 11 February, Hobart – Fern Tree – Glaziers Bay – Hobart
Nick Randall, NR Design – award-winning bespoke Tasmanian timber furniture
Long Table Lunch at Fat Pig Farm, Glazier's Bay
This morning we meet with Nick Randall, an award-winning designer of bespoke Tasmanian timber furniture whose inspiration comes from the beauty of the natural environment and particularly Tasmania's maritime heritage. We meet Nick at his studio, NR Design.  "Combining the beauty of our natural timbers and the lines of classic sailing vessels" he has "created a series of pieces using age old boat building techniques and modern technology that present beautiful curved shapes and an extremely tactile nature."
Mid-morning we travel to Fern Tree, a mountain suburb which lies 10 kilometres south west of Hobart on the slopes of Mt Wellington. Here we meet with Torquil Canning at his home, a late 20th-century house built in four stages over 20 years, partly designed by JAWS Architects and partly by himself. Having graduated as a landscape designer from Burnley Horticultural College in 1985, Torquil spent 12 years running his own landscape design company before eventually becoming a certified Passive House Consultant. Over 25 years his home has undergone continued improvements. Designed along passive-solar principals the house features two major sustainable features: a thermal mass from stone walls and double-glazing.
Accompanied by Torquil, we also visit the Fern Tree House designed by architect, David McGlashan of McGlashan and Everist (now McGlashan Everist Architects). Following the 1967 Black Tuesday bush fires, this family home was commissioned by the Canning family to replace their original house. "The house consists of three adjoined pavilions stepped down the sloping site and in common with other McGlashan and Everist houses, uses minimal and natural materials. The floor to ceiling glazing affords each room its own relationship to a different aspect of the surrounding gardens. Elements in the design and construction are shared in common with other McGlashan Everist houses, such as Heide II and Grimwade House in Victoria". Source: https://openhousehobart.org
Our sumptuous long table lunch will feature food grown at Fat Pig Farm in Glazier's Bay, the home of chef Matthew Evans, former restaurant reviewer and presenter of the SBS show Gourmet Farmer. The show is filmed at the farm and between courses we'll tour the 70-acre mixed farm which has a 1.7-acre market garden, rare Wessex saddleback pigs, beef cattle, beehives, fruit orchard and micro-dairy. (Overnight Hobart) L
Day 7: Saturday 12 February, Hobart – Montagu Bay – Lenah Valley – Glenorchy – Berriedale – Hobart
Richardson House, Montagu Bay – Esmond Dorney (to be confirmed)
Kuljavee House, Lenah Valley – Esmond Dorney
Snow's Dry Cleaners in Glenorchy – Esmond Dorney
Snow House, Berriedale – Esmond Dorney
MONA – Fender Katsalidis Architects
Farewell Dinner at Mures Upper Deck
Accompanied by Paddy Dorney we spend the morning visiting three additional projects by Esmond Dorney. Designed in 1959, the Richardson House is located on the foreshore of the Derwent Estuary at Montagu Bay. Its circular design affords panoramic views of the harbour, the city, the mountain to the west and the river to the north. In the Lenah Valley we enjoy a very special visit to Kuljavee House which has never before been open to the public. At Glenorchy we view Snow's Dry Cleaners designed by Esmond Dorney in 1960. This project is said to have inspired David Walsh; his one bedroom pavilion at MONA is named in Dorney's honour.
At Berriedale we visit Dock on the Bay, an extraordinary building designed by mid-century modernist Ray Heffernan in 1964. The building, which has been beautifully renovated by its current owner, sits on the waterfront overlooking the bay across to MONA. Adjacent to Dock on the Bay is Snow House, another residential dwelling by Esmond Dorney which we may view from the exterior.
Following a light lunch, this afternoon we visit the Museum of Old and New Art (MONA), an art museum that is the antithesis of the traditional gallery. It was created to be shocking, educational and entertaining with the confronting themes of passion, death and decay explored in unflinching detail. The controversial artworks are all from the private collections of David Walsh, a mathematician and art collector who made his money perfecting algorithms that let him beat casinos and bookies at their own game. Designed by Fender Katsalidis Architects (FKA), MONA sits sentinel over the Derwent, its bulk echoing the riverbank topography.
We conclude our tour with a Farewell Dinner at Mures Upper Deck, an award-winning seafood restaurant. (Overnight Hobart) LD
Day 8: Sunday 13 February, Depart Hobart
The tour ends this morning. Participants will be required to make their own way to the airport. Please contact ASA if you require further assistance. Check-out time from the hotel is 11am.
Accommodation
Accommodation
Hobart (7 nights): 4-star Moss Hotel – tucked above the heart of vibrant Salamanca Place, this boutique hotel which was designed by Circa Morris-Nunn Chua Architects, was recently awarded the inaugural Tasmanian Architecture Medal. Accommodation is divided between 2 buildings. Rooms are a mixture of Grove and Pod rooms. An upgrade to the Grove Balcony Rooms is available upon request, subject to availability and payment of the applicable supplement. www.mosshotel.com.au
Single Supplement
Payment of this supplement will ensure accommodation in a double room for single occupancy throughout the tour. People wishing to take this supplement are therefore advised to book well in advance.
Note: breakfast is not included, but may be purchased from the Retro Cafe located next door. A menu may be viewed by clicking on the image below.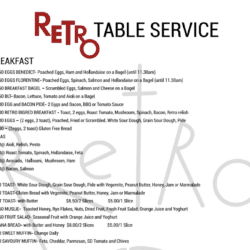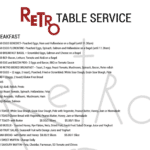 How to book
How to Book
ASA RESERVATION APPLICATION FORM
Please complete the ASA RESERVATION APPLICATION and send it to Australians Studying Abroad together with your non-refundable deposit of AUD $500.00 per person payable to Australians Studying Abroad.
Covid-19 Vaccination Certificate
Commencing from November 2021 it will be a condition of travel that all group leaders and ASA travellers are fully vaccinated against Covid-19. All participants must send ASA a copy of their vaccination certificate at the time of submitting their Reservation Application Form. For information on how to obtain either a Covid-19 digital certificate or a certificate in PDF format please view the Australian Government Services Australia "What types of proof there are" web page.
Practical Information
Practical Information
The number of flags  is a guide to the degree of difficulty of ASA tours relative to each other (not to those of other tour companies). It is neither absolute nor literal. One flag is given to the least taxing tours, seven to the most. Flags are allocated, above all, according to the amount of walking and standing each tour involves. Nevertheless all ASA tours require that participants have a good degree of fitness enabling 2-3 hours walking or 1-1.5 hours standing still on any given site visit or excursion. Many sites are accessed by climbing slopes or steps and have uneven terrain.
This 8-day tour involves:
A moderate amount of walking often up and down hills and/or flights of stairs.
Access to Dorney House Fort Nelson involves a 20-30 minute walk up a steep hill to the house. No access is available by coach.
The daily schedule often involves an early-morning departure (between 8.00-8.30am), concluding in the late afternoon (between 5.30-6.30pm).
You must be able to carry your own luggage. Hotel porterage is not included in the tour price.
A moderate amount of coach travel, several on winding mountainous roads.
It is important to remember that ASA programs are group tours, and slow walkers affect everyone in the group. As the group must move at the speed of the slowest member, the amount of time spent at a site may be reduced if group members cannot maintain a moderate walking pace. ASA tours should not present any problem for active people who can manage day-to-day walking and stair-climbing. However, if you have any doubts about your ability to manage on a program, please ask your ASA travel consultant whether this is a suitable tour for you.
Please note: it is a condition of travel that all participants agree to accept ASA's directions in relation to their suitability to participate in activities undertaken on the tour, and that ASA retains the sole discretion to direct a tour participant to refrain from a particular activity on part of the tour. For further information please refer to the Terms and Conditions section given below.
Practical Information
Prior to departure, tour members will receive practical notes which include information on visa requirements, health, photography, weather, clothing and what to pack, custom regulations, bank hours, currency regulations, electrical appliances and food. The Department of Foreign Affairs & Trade website has advice for travellers see: www.smartraveller.gov.au
Tour Price & Inclusions
Tour Price & Inclusions
AUD $5340.00 Land Content Only
AUD $1185.00 Single Supplement
AUD $340.00 Optional Upgrade to Moss Balcony Room (based on twin-share). Limited rooms available.
For competitive Economy, Business or First Class airfares and/or group airfares please contact ASA for further information.
Tour Price (Land Content Only) includes:
Accommodation in twin-share rooms with private facilities for 7 nights at the Moss Hotel
Meals as indicated in the tour itinerary where: L=lunch & D=dinner
Drinks at welcome and farewell meals. Other meals may not have drinks included
Transportation by air-conditioned coach as outlined in the tour itinerary
Lecture and site visit program
Entrance fees as per itinerary
Use of audio headsets for site excursions
Tips for the coach driver and restaurants for included meals
Tour Price (Land Content Only) does not include:
Airfare: Australia-Hobart, Hobart – Australia
Breakfast daily (note: the Retro Cafe next door will be available to provide breakfast)
Porterage at the Moss Hotel
Personal spending money
Airport-hotel transfers
Luggage in excess of 20kg (44lbs)
Travel insurance
Tour Map
Gallery
Terms & Conditions
A deposit of $500.00 AUD per person is required to reserve a place on an ASA tour.
Cancellation Fees
If you decide to cancel your booking the following charges apply:
More than 75 days before departure: $500.00**
75-46 days prior 25% of total amount due
45-31 days prior 50% of total amount due
30-15 days prior 75% of total amount due
14-0 days prior 100% of total amount due
**This amount may be credited to another ASA tour departing within 12 months of the original tour you booked. We regret, in this case early-bird discounts will not apply.
We take the day on which you cancel as being that on which we receive written confirmation of cancellation.
Unused Portions of the Tour
We regret that refunds will not be given for any unused portions or services of the tour, such as meals, entry fees, accommodation, flights or transfers.
Will the Tour Price or Itinerary Change?
If the number of participants on a tour is significantly less than budgeted, or if there is a significant change in exchange rates ASA reserves the right to amend the advertised price. We shall, however, do all in our power to maintain the published price. Occasionally circumstances beyond the control of ASA make it necessary to change airline, hotel or to make amendments to itineraries. We will inform you of any changes in due course.
Travel Insurance
ASA requires all participants to obtain comprehensive travel insurance. A copy of your travel insurance certificate and the reverse charge emergency contact phone number must be received by ASA no later than 75 days prior to the commencement of the tour.
Final Payment
The balance of the tour price will be due 75 days prior to the tour commencement date.
Limitation of Liability
ASA is not a carrier, event or tourist attraction host, accommodation or dining service provider. All bookings made and tickets or coupons issued by ASA for transport, event, accommodation, dining and the like are issued as an agent for various service providers and are subject to the terms and conditions and limitations of liability imposed by each service provider. ASA is not responsible for their products, services, terms and conditions. If a service provider cancels or does not deliver the product or service for which you have contracted, and does not give a refund, your remedy lies with the service provider, not ASA.
ASA will not be liable for any claim (e.g. sickness, injury, death, damage or loss) arising from any change, delay, detention, breakdown, border closures, cancellation, failure, accident, act, omission or negligence of any tour service provider or authority however caused (contingencies). You must take out such travel insurance as is available against such contingencies.
ASA's liability in respect of any tour cancelled or changed will be limited to the partial refund of amounts you have paid, less an administration fee of $500 and other costs and charges of third party service providers. No compensation will be payable to you by ASA where ASA cancels or changes a tour, or any part of a tour.
ASA reserves the sole discretion to cancel any tour or to modify itineraries in any way it considers appropriate and in the best interests of health, safety and wellbeing of tour participants. Tour costs may be revised, subject to unexpected price increases or exchange rate fluctuations.