Travel Tuesdays: Explore the World Virtually – Episode 1
Renaissance Venice saw the emergence of some of the most celebrated names in art history
---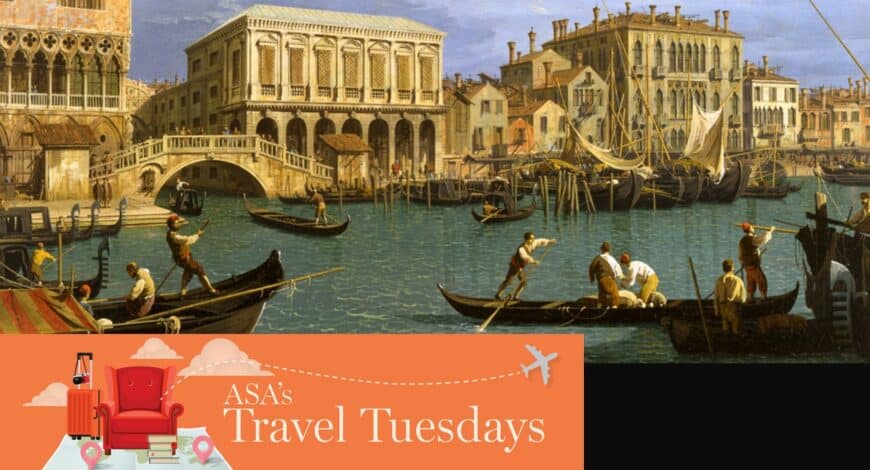 An Introduction to the Art of Venice
Travel to Venice with acclaimed painter, art historian, and accomplished ASA tour leader, David Henderson as he presents 'An Introduction to the Art of Venice'.
Renaissance Venice saw the emergence of some of the most celebrated names in art history. It was here that Bellini, Titian and others established a school of painting of unparalleled magnificence characterised by an emphasis on light and colour. Venice remained an important artistic centre for centuries, producing lifelike portraits, glowing altarpieces and city views whose technical and stylistic innovations exerted a profound effect on the course of European art.
Recorded during a live-streamed Zoom presentation, this video has been carefully edited to deliver the experience of being part of an audience and having the best seat in the house.
After initial studies in architecture in Brisbane, David graduated in painting from London's Royal Academy Schools in 1985. The Royal Academy awarded him a prize for painting, and he was twice selected for their annual summer exhibition. David has held many solo exhibitions of his work in Brisbane, Melbourne and London and has been the recipient of several awards and commendations. David has taught art part-time at various institutions; for many years, he lectured and ran courses in the history of art and design at QUT. David now paints full-time and divides his year between Australia and Italy. Since joining ASA in 1995, David has led over 50 tours to a variety of destinations including Italy, France and the UK. He brings a trained artist's eye to an analysis of painting, sculpture and architecture and takes great pleasure in sharing his knowledge.
For more about David's work as an artist, see his website: www.visualartist.info/davidhenderson